Plastic Pallet/Skids
Manufacturer: Vestil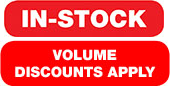 FOB - Midwest Warehouse
This innovative design unites two essential product features, capacity and versatility. Pallet/ Skid provides 4-way entry, 2-way by pallet truck and 4-way by a fork truck. The fork opening is 11-3/4" W x 3-1/4" H. The skid opening is 10-1/2" W x 3-3/4" H. Features anti-slide grommets which prevent the pallets from sliding off the forks and each other during transit.
Vestil model numbers in red ship within 48 hours
If you need a large quantity of this product, call us at 1-800-338-1382 for additional bulk discounts!